Fast, Secure and Efficient
Payment Terminal
Build a better customer experience in your business
Simply Brilliant TenderPOS Pay
TenderPOS Pay means you'll be benefitting from the UK's lowest "fixed fee" payment solution.
Benefit from cheap, fast and secure card payments with our free app and simply brilliant payment device.
We'll set your account up in minutes and your brilliant business will be trading in no time – what are you waiting for?
No Monthly Fees | No Minimum Charges | No Hidden Costs
MP200 WIRELESS TERMINAL
Integrate wireless terminals with TenderPOS
Take payments anywhere in your restaurant by integrating the MP200 wireless terminal with your POS software. The most adaptable, secure, and innovative device offering organizations and businesses of all sizes a next-generation mobile payment solution.
A920 PAX SMART TERMINAL
Smart Payment Terminals With TenderPOS
Take payments and manage your restaurant anywhere with the Smart Terminal. Simply install our TenderPOS system on the smart terminal. You can wander around the tables taking orders and payments at the same time. Drinks orders will print off at the drinks printers and Food will process to the kitchen immediately.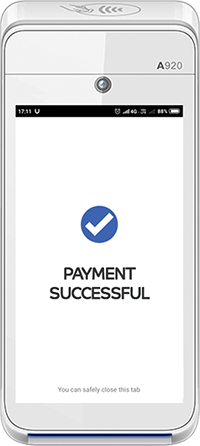 Vega3000 Mobile 3.5"
Better business starts with EFTPOS
Accept debit and credit cards and contactless payments with ease. Our devices provide you with the tools and flexibility you need to take payment when and where it suits you.
Our world-class EFTPOS terminal is compatible with our range of value-added apps and services and backed by our nationwide, 24/7 technical support.
Vega3000 Standalone 3.5" Countertop
All Payment Options & High Performance
Pinpad is compact in size and provides all secure payment options for EMV chip, swipe, and contactless payment. It is designed to integrate with most POS terminals or cash registers in the retail environment
Ready to offer tableside payments?